Faculty of Engineering
---
Technologies for Health: Case studies
---
Real life applications of Technologies for Health research.
Advanced care for respiratory illnesses
---
In brief
Dr John Cater's research team are working with Fisher and Paykel Healthcare Ltd. to understand how breathing devices can be optimised for the shape of an individual's nose and nasal cavity.
Resources
Research expertise in computational fluid dynamics
Use of technology beyond industry standards (CFD, PIV, and 3D printing)
Access to patient data to examine individual airways
Respiratory illnesses affect over 200 million people worldwide annually, and can lead to negative health and economic outcomes (WHO, 2012). There is thus an ongoing need to improve the effectiveness and costs of therapy. Fisher and Paykel Healthcare (FPH), the most prominent provider of respiratory care in ICUs and hospitals in New Zealand, intends to develop new products for a global market, which can generate a significant increase in market share and profit.
Dr John Cater's team was approached by FPH due to their capabilities in fluid mechanics – the understanding of how various gases and moisture behave in airways. The team has previously worked with FPH on the award-winning Optiflow Junior, a respiratory device for newborns.
Led by Dr Cater, an expert in computational fluid dynamics, the team is comprised of University of Auckland and University of Canterbury researchers and students, and additional staff from FPH. To investigate individual airways, they procured CT, MRI, and Cone Beam Topography scans from radiology clinics throughout the country. The data is then tackled with their expertise and use of advanced technology that is beyond industry standards.
Prototype breathing models were created using 3D printers to analyse the complex fluid flow in human airways in great detail using Particle Image Velocimetry (PIV) – a high speed imaging laser that can produce precise results in nanoseconds, and Computational Fluid Dynamics (CFD). The university's possession of high performance cluster computing, including a 5,000 core machine, allows researchers to model temperature, fluid velocity, and gas concentration with speed and precision.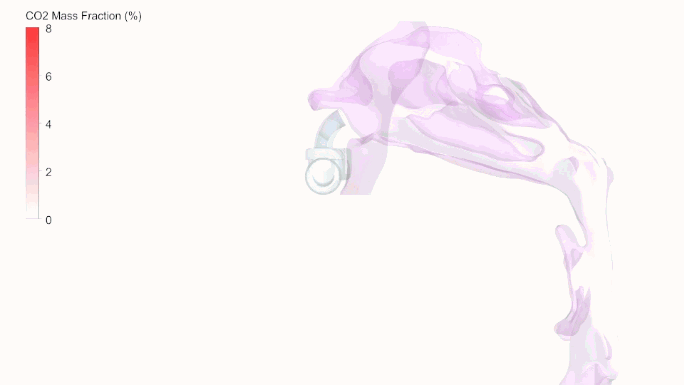 Results
The team has proven that research competency, innovative techniques and advanced technology can lead to a better understanding of patients' needs. With detailed knowledge to expand their range of medical devices, FPH now has an edge over their competitors. The continuously positive relationship also prompted FPH to recruit capable, highly skilled graduates that have benefited from being directly trained by the team.
The partnership between university research and industry will bring overall improvements to the healthcare industry. Personalised breathing devices can now be manufactured to suit each individual airway, which marks a huge development in maintaining the wellbeing of millions of people each year. This further opens up opportunities to create more products that can be marketed both locally and internationally.
New Zealand's diverse racial demographic alone is evidence that there is a market for personalised breathing devices. Expanding this to the global marketplace will be profitable to the local economy, and can establish our country as a leading provider of research and development in medical devices.
Funding
Fisher and Paykel Healthcare (FPH)
Ministry of Business, Innovation and Employment (MBIE)
Contact
Dr John Cater
+64 9 923 7050
j.cater@auckland.ac.nz
Top
Departments, Institutes & Library